Senegal Select IRIS To Implement First ECOWAS Biometric eID with Voter Card For Its Citizens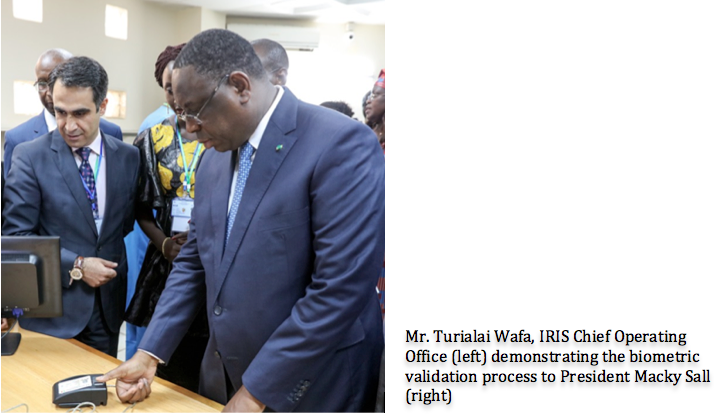 Dakar, Senegal, 4 October 2016 – IRIS Corporation (IRIS), the inventor of the world's first ePassport and multi-application electronic identification (eID), deployed its integrated biometric eID with voter card to the Government of Senegal for the country's eID project.
"Due to Government of Senegal's leadership, innovative thinking and initiative, Senegal is the first of fifteen (15) states in Economic Community of West African States (ECOWAS) to implement multi-application biometric identity cards with voter cards. Senegal's new integrated eID has laser engraved personalisation of portrait and ghost images (front), as well as text (front and back)," said Turialai Wafa, IRIS Chief Operating Officer.
"IRIS is able to seamlessly deploy Senegal's highly secure biometric ID and voter card in just four (4months) because of Government of Senegal's complete trust and confidence in IRIS. In addition, this unprecedented eID project was achieved because of our IRIS teams' 16 years of eID experience and focused efforts to implement the best quality identity solution for Senegal," added Wafa.
IRIS has created Senegal's new biometric eID and voter card using a proprietary fraud resistant polycarbonate (PC) card embedded with contactless chip that incorporates advanced visual security features. IRIS is also supplying its fully integrated IDenCraft® solution that manages citizen enrolment, card personalisation, and card issuance. The new identity card is impossible to forge, unlawfully manipulate and delaminate.
Present at a special event to launch the new biometric eID card was Senegal President Macky Sall, who became the first recipient of the new Senegal eID. Upon completion of his card issuance process, the Head of State stated that Senegal is the first member state to implement ECOWAS' directive of issuing ECOWAS Biometric ID Cards to its citizens.
"This is a multi-use and multi-functional card, which will not only serve as Senegal's national identity card but also a voting card," said Macky Sall. The President of the Republic continued his statement by reassuring Senegalese citizens that the new biometric identity card is truly secure as it stores fingerprints from all ten fingers.
Senegal's ECOWAS Biometric ID is more than a national identity card, it also serves as a valid travel document that facilitates intra-regional mobility. The card will replace the current resident permit so that citizens can live and reside in any ECOWAS country without having to provide any other identification document.
Sourced from http://www.pressafrik.com/Nouvelle-carte-d-identite-biometrique-Le-Senegal-premier-pays-de-la-zone-Cedeao-a-l-appliquer_a155211.html